5211 Johnstown Road New Albany, OH 43054 | p: 614-917-1020 | f: 614-917-1023
Get Directions
Even though we're past the holidays, the sales are still on! Look for 75% off on all holiday décor and deep discounts on remaining glazed pottery.

It's hard to look at the leafless trees and dormant lawns in the winter. It seems like just a short time ago the yard was bursting with green life and blossoms everywhere! The best way to beat the drab winter blues is to bring some life into the home, with Oakland Nurseries help.

Houseplants and tropical can transform a hard and cold room into a living indoor landscape, and help clean that stuffy air also. There are many houseplants that are not hard to care for, need minimal light, and can be put on the floor, on a table, or hung from a hook. Your Oakland New Albany store receives new plants weekly, so stop in for your piece of spring for your indoor space.

While the outdoors may look dreary, it certainly is not lifeless! Make your landscape livelier by attracting our feathered and furry friends in close with bird feeders, quality bird seed products and a well placed bird bath. Oakland is stocked weekly with fresh bird seed, suet cakes, peanuts and corn for setting out for birds and our 'squirrelly' friends. Your yard can become a bird destination, especially on bitter cold days by setting up a bird bath with heater.

Spring seeds will start to arrive by mid January, so it's not too early to start planning your veggie beds and wildflower patches.
We carry premium quality plant material at unbelievable pricing - material that grows in value! Our plant and hard good selection includes:
Perennials, flowering shrubs, evergreens, groundcovers, and ornamental trees
Mulch, top soil, potting soil, and soil amendments
Lawn and garden fertilizers
Bird seed, bird feeders, and suet cakes
Garden tools, garden gloves, garden hats, garden boots, and pottery
Our inventory is growing daily! Stop by Oakland's newest garden center and discover for yourself the meaning of, "If you haven't been to Oakland Nursery, you simply haven't been to a nursery!"
How Green is Your Castle?
The current trend in home living is to green up those indoor spaces with living plants that complement your décor and contribute to your physical and spiritual well-being. The great part is it doesn't take big money remodeling or huge spaces to enjoy houseplants. The huge interest in succulents and air plants have expanded how plants can be used in home decorating. Oakland's greenhouse is full of interesting plants that range from small starter plants, to serious bonsai specimens, to easy traditional houseplants, to larger potted plants for bigger spaces. Which is right for you? Come on in and talk to Ryan or Hannah about bringing a piece of the tropics home. Here are some suggested plants for your rooms:
Shady spaces: Anthurium, Arrowhead plant, Chinese evergreen, Cast Iron Plant, Dieffenbachia, Ivy, Peace Lily, Philodendron, Pothos, Snake Plant, Spider Plant, Swiss Cheese Plant, Z-Z Plant.
Air-Cleaners: Ivy, Bamboo Palm, Chinese Evergreen, Dracaena, Snake Plant, Potted Mum, Peace Lily, Spider Plant, Corn Plant.
Decorative Plants: Air Plants, Succulents/Cactus, Terrarium gardens, Gerbera Daisies, Majesty Palms, African Violets, Clivia, Lemon Tree.
Wild Birds in the Winter
Watch for Oakland's 'Love Your Birds' Sale in February, for great deals on birding supplies!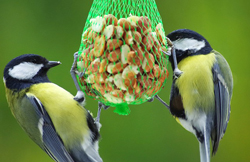 How about creating a spot of great interest and benefit to wildlife by placing a bird feeder in your landscape? It can be as simple as a basic bird feeder and quality mixed seed, or you can really get into it, by adding additional feeders and foods, a bird bath with heater, some binocular glasses, and a birding identification book. Start with a high quality mixed seed, and with experience add other types of seed to broaden the pallet of offerings, and increase the kinds of birds at your feeding site. REMEMBER: Place your feeder away from hiding spots where cats and other predators can ambush them.
Mixed Seed: Look for a quality seed with a high proportion of sunflower seed or else you will tend to attract nuisance birds and raccoons.
Sunflower Seed: Black or Striped. Black seed has a thin coat relished by almost all birds, striped has a thicker coat to discourage blackbirds. Shelled seed is available to avoid the mess of raking shells.
Safflower: Attracts Cardinals, Grosbeaks, Doves.
Nyjer/Thistle Seed: Small seed needs special feeder. Attracts Goldfinches, House finches, Chickadees, Redpolls.
White Proso Millet: Look for this in quality mixed seed. Ground feeding birds such as Cardinals Juncos, Sparrows.
AVOID: Mixes with Golden Millet, Red Millet, Flax, Rapeseed, or Canola seed. A filler-type seed shunned by most birds, and attracts critters and nuisance birds.
Corn & Peanuts: Many birds. Purchase in small quantities and use quickly to avoid contamination by toxic aflatoxins.
Mealworms: Many species of birds are omnivorous and enjoy some insect protein. Feed in small amounts on flat surface.
Fruit pieces/Berries/Raisins: Many birds relish these, either dried all year or cut up fresh in spring season.
Oakland INSIDE & OUT Garden & Gifts
5211-B Johnstown Road New Albany, OH 43054 | p: 614-573-8648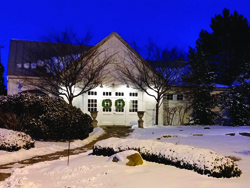 Visit the newest member of the Oakland Nursery family! Learn more here.