5211 Johnstown Road New Albany, OH 43054 | p: 614-917-1020 | f: 614-917-1023
Get Directions
Pottery, Statues And Fountains, Oh My!
At first thought they don't seem like they should be part of the garden. They're not affordable. Or too much trouble.

But nothing could be further from the truth. The thoughtful selection of a pot or urn can make a boring spot in the garden into a great nook. A selection of colorful, planted ceramic pots can make an outdoor living space into a lush tropical paradise. A statue or fountain and bring focus and soft hush to the garden and make it magical.

And it can be very affordable, especially now during the Thank You Sale at Oakland Nursery. Save 33% on all outdoor ceramic pottery, and 20% on all statuary, fountains and accents. So go on, get creative, and make a little magic in the garden.
Managing A Wet Year
Wow, the rain. It has been a very wet year, which followed a previous record wet season last year. For plants, especially trees, shrubs and vegetables, a constantly wet soil can be a problem in Columbus' heavy clay soils. Excess water fills the air spaces in the soil, depriving plant roots of oxygen. This shows up as yellowing foliage, poor growth, and premature dropping of flowers and fruit. What's a gardener to do?

For vegetables, cultivate low trenches between rows for water to gather. This helps the soil around the plant to dry quicker. When planting trees and shrubs, dig a hole twice as big as the root ball, mix in 25% shredded pine bark and the recommended amount of Espoma Biotone root stimulator. Plant with the root ball ½ to 1 inch above the grade. Mulch as usual with 1 to 2 inches of mulch.

For established plants showing moisture stress, pull back the mulch from around the plant, to allow the soil moisture to evaporate off quicker, and lightly cultivate the top inch of soil to promote drying. Be on the look out for any overflowing gutters, plugged drains or low spots that gather and retain water.
Oakland INSIDE & OUT Garden & Gifts
5211-B Johnstown Road New Albany, OH 43054 | p: 614-573-8648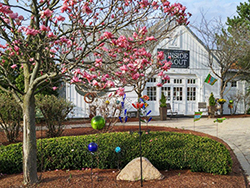 Visit the newest member of the Oakland Nursery family! Learn more here.