5211 Johnstown Road New Albany, OH 43054 | p: 614-917-1020 | f: 614-917-1023
Get Directions
Happy Spring!
Is it time to plant? Yes it is! Oakland Nursery New Albany is full of all the plants and gardening accessories you need to enjoy a season of gardening pleasure. As the temperatures rise , we will be taking deliveries of warm season vegetables, herbs and flowering annuals, such as petunias, impatiens and zinnias.

Visit the link to our spring circular and see the amazing selection of trees and shrubs, fruits, perennials and roses. If it's an elegant accessory to your garden or patio you are looking for, we are busy turning on elegant bubbling fountains and placing hundreds of statures, pots and urns.

Oakland Nursery New Albany is proud to serve New Albany, Gahanna and the surrounding communities. Come visit Oakland's newest garden center and shop for "Values That Grow".
Annuals, Perennials or Both?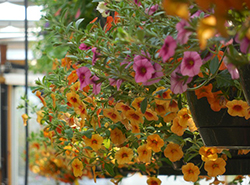 Annual flowers are plants that grow in our warm season here in Ohio, then die with the first hard frost. Petunias, Impatiens, and Zinnias come to mind. The variety of annuals available are truly stunning, with greenhouse producers introducing spectacular new varieties every year. They are easy to plant, reliable bloomers and there is a flower for every situation.

Use these plants where you want season long color, in sun or shade, in landscape beds, borders, hanging baskets, or pots. Combo pots filled with an endless variety of plants is the current trend. The rule book on combo pots has been thrown out the window. Now you can see fantastic combination pots, filled with annuals, perennials, grasses, shrubs and even small fruits, all planted together for a show of color and texture.

Perennials are plants that flower in specific parts of the season, die back to the ground in fall, but come back year after year, to bloom again and again. Once established they require less maintenance and provide 'permanent residents' in the landscape bed. Plan your perennial beds with several kinds so something is blooming all through the season. If you have deep shade, perennials can be one of the few plants that thrive in that situation! More and more combination pots incorporate perennials for their variety and texture.

Let Oakland's experts show you how to use these flowering plants in your landscape or on your patio. We stock a huge selection of annuals and perennials from local growers, along with potting soils, tools, fertilizers, and advice. Come visit us!
Oakland INSIDE & OUT Garden & Gifts
5211-B Johnstown Road New Albany, OH 43054 | p: 614-573-8648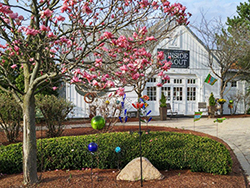 Visit the newest member of the Oakland Nursery family! Learn more here.